Suggestions for some Wonderful Winter Nature Studies
I absolutely LOVE the Nature Study units from Our Journey Westward. And I am more than happy to share these wonderful resources with friends (like you!).
There is SO much in these amazing studies, I felt like I won the lottery when I found them! I honestly feel like if I didn't share them, I'd be keeping a too-good-to-keep secret!
These are lovely Charlotte Mason-style Nature Studies.
Cindy has packed the pages full of incredible ideas and inspirations to jump start all kinds of nature study as well as notebooking and nature journaling. The guides are easy to use and very well laid out. They are also good for quite the age range, with ideas to carry you from preschool to even high school depending on how you use the information and how you direct your student.

Some of the elements include:

Getting Started – Literature Launch gives a list of recommended children's literature to inspire and introduce the concepts of the study (love this so much!), Inspiration Point and A Bit of Background offer the 'teacher' a chance to gain quick and easy basic understanding of the motivation behind the study and some background knowledge before heading into nature study both in and out of doors.
Getting Outside – Nature Walks and Outside Activities (the core of the curriculum) is the section where Cindy has written so many great topic-related ideas for getting outside! This is exactly what I was looking for since the simple, "Hey let's go for a walk," doesn't always captivate my kids anymore.

Branching Out – This section goes more in depth and, well, branches out on the topic of study. There are many ideas for hands-on science experiments and activities, vocabulary and scientific concepts (this one includes a look at Allen's Rule, Bergmann's Rule, The Egg Rule, and Gloger's rule, along with discussions and activities for the concepts of adaptation, camouflage, how to make your yard animal and bird friends, and much more.)

In the Branching Out section, you will also find a ton (really!) of ideas for research, study and creative writing. The ideas are so many and so varied that I mentioned to my husband that I would surely keep these units for years to come and pull them out during the applicable seasons to use as a launching pad for Nature Study over and over again. Cindy gives hundreds of ideas that could serve as a very engaging springboard for all ages.
Bible, Poetry, Artist and Picture Study, and Composer and Music Study:
I love the Bible Lessons from His Creation section. This highlights multiple verses and chunks of scripture that relate to the topic of study. We used Matthew 6:28-30 as our copywork in our Nature Journals.

Poetry Place includes several titles of theme-related poems and suggested books of poetry. For this unit, we printed off all the poems and read them aloud. We used Something Told the Wild Geese by Rachel Field as a nature journal page and learned more about the Canada Geese from Handbook of Nature Study. when we used Coping with the Cold this winter.

I was so excited to discover the Artist and Picture Study References included as well. What a wonderful addition to any Nature Study! Cindy gives great suggestions for kid-friendly picture study with artists and artwork related to the topic. We really gravitated towards studying works by Robert Bateman for our Coping with the Cold unit and it was wonderful.

Composer and Music References offers some lovely ideas for music study related to the specific theme of the given Nature Study unit.

There are also many notebooking pages to use within your home and homeschool for each unit – so many I couldn't list them all! Each page pairs easily with the content within the unit study and can be printed off as needed!
Seriously, amazing resources!
Let's look at some of the Winter Nature Studies
We absolutely LOVED doing the Coping with the Cold unit last year. There was SO much in it that I think we will still pull from it this year.


I did a very detailed review of the unit right here: Winter Nature Study and a Review of Coping with the Cold. I won't write more about it on this page, because I cover it in detail in the review, so check it out!




This is the unit we are starting this month (December) and I'm sure we will enjoy throughout the Winter season. I have already printed out the sheets for a Conifer Scavenger Hunt, and a Conifer Comparison guide.






The study includes tons of great ideas for identifying and studying these beautiful trees God has created. Some ideas include: In-depth observations of specific Conifers, starting a cone collection, dissecting various cones and observing seeds, attempt planting your own Conifer seeds, measure and sort cones based on various variables, make Conifer needle sachets, birds feeders, and various other handi-crafts with cones… and so much more!
As soon as we get some snow in this part of our little world, we will launch into the Snow and Ice unit. I had plans to cover this unit last year but we enjoyed Coping with the Cold so much that we never got to Snow and Ice!


The Literature Launch for this unit includes one of our favourite living books about snow – Snowflake Bentley. With this unit, we explore the beauty and wonder of God's Winter Creations – snow and ice. Some ideas include: study the shapes and uniqueness of snowflakes, measure snowfall in your area, use a snowflake guide to identify various types of snowflakes, observe and record your findings about interesting icicles, sketch a 'Frosty Find', look for signs of winter animals and research and record what you learn, learn about the properties of snow and ice, make a snow gauge, make crystals, make snowflake models using Lego or K'Nex, make a simple mountain landscape in Winter using beginner cross-stitch designs… and tons more.
I think Captivating Clouds could truly be done at any time of the year. I think we might launch into this in late Winter this year.

Here are just some of the ideas from Captivating Clouds: learn to identify different types of clouds, observe and journal clouds on a nature walk using an identification chart, keep a log of the cloud types you see every day, use a compass to identify the direction clouds are moving, learn about water vapour, identify shapes in clouds, observe and journal about colours found in clouds, write Haiku, sculpt clouds using clay, learn the five main cloud components, learn about condensation, evaporation, and precipitation, make 'fruit in a cloud' for a snack, and so much more!

For writing ideas, suggestions include: make a chart showing cloud levels and altitudes, create an accordion book about fog types, research, illustrate, and write a paragraph about Interesting Cloud Names, and several more engaging writing topics.

Multiple biblical references and readings are provided along with poetry suggestions. Art and Picture Study includes Van Gogh, Monet and Norman Rockwell, among others. Also has composer suggestions and numerous suggested fiction and non-fiction titles to work with the study of clouds.
This is especially for preschoolers and kindergarten aged children.
Cindy is wonderfully talented at making Nature Study engaging and easy to implement for moms.
This is bound to be full of lovely suggestion for bringing Winter Nature Study to life for young children. Includes Notebooking pages and print-outs too!
I hope this gives you some ideas for engaging in meaningful Nature Study this chilly Winter (although it isn't very cold here yet!).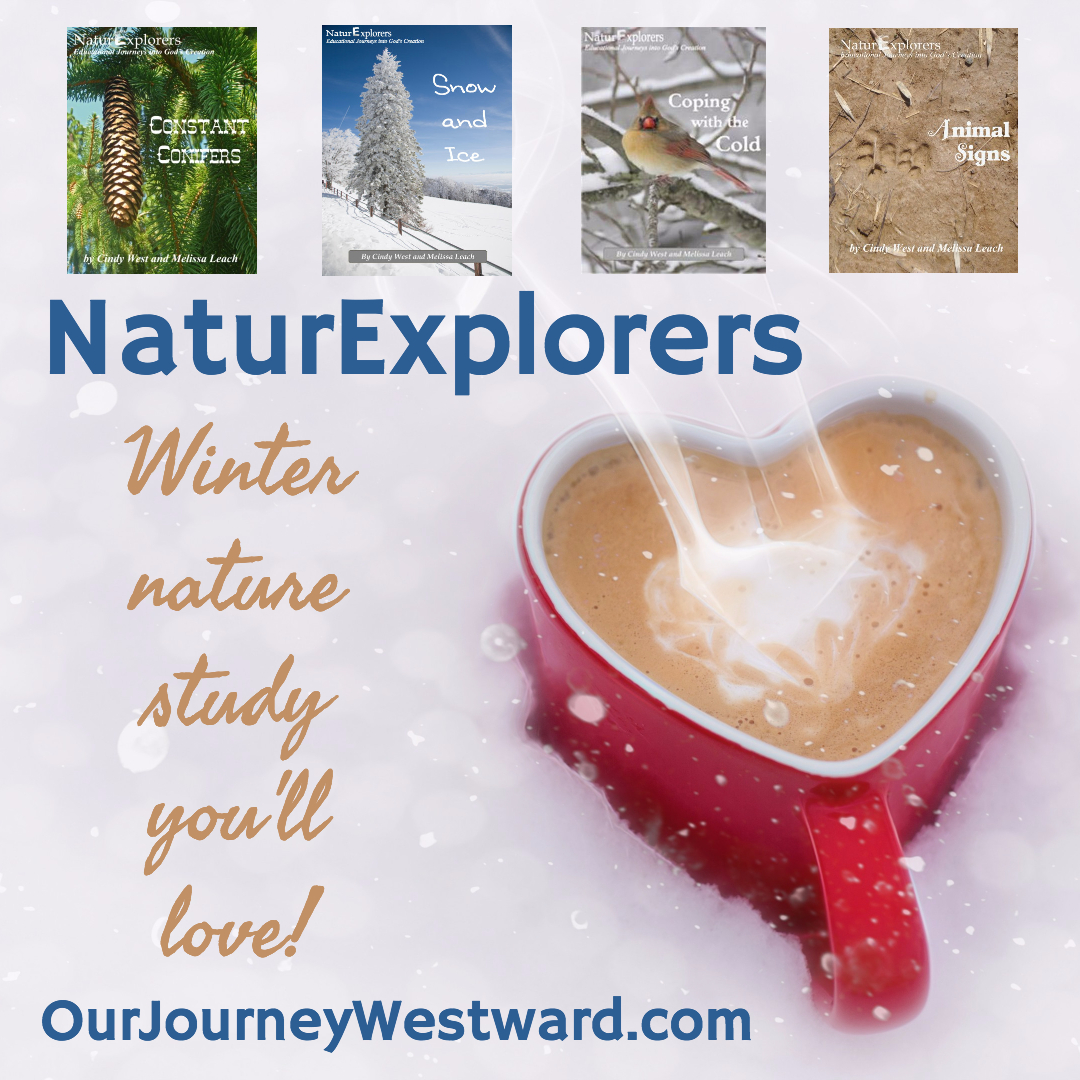 *This post contains affiliate links.